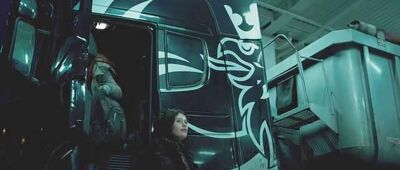 Scania 4-Series
is a vehicle seen in
Byzantium
.
The Scania G/P/R-Series, formerly Scania 4-series, is a truck model range which was produced by Scania in 1995 as the 1996 model. It was the successor of the 3-series and it came in five engine combinations and four chassis types. Production of Scania 4-series was stopped after its successors P-series, R-series and G-series were starting in 2004.
Engine size
The engine sizes are - as usual for the 1-4 series - shown in the model name with a number constructed by the cylinder volume in litres followed by the generation of truck. This way a 14 litre engine in the 4-series will be a 144.
Chassis type
The letter, following the number describes the chassis type, but in the 4-series this code changed compared to former series (L, D, C and G in 4-series). The 3-digit number on the opposite corner in the front stands for horse power.
Ad blocker interference detected!
Wikia is a free-to-use site that makes money from advertising. We have a modified experience for viewers using ad blockers

Wikia is not accessible if you've made further modifications. Remove the custom ad blocker rule(s) and the page will load as expected.