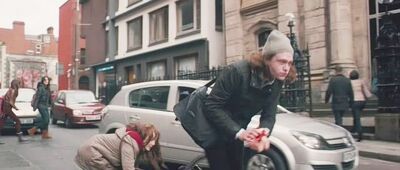 Opel Astra
is a vehicle seen in
Byzantium
.
The Opel Astra (Lat: Stars) is a small family car (C-segment in Europe) engineered and manufactured by the German automaker Opel since 1991.
It is branded as Vauxhall Astra in the United Kingdom and the Buick Excelle XT in China. The Holden Astra was axed in Australia and New Zealand in 2009 owing to exchange rates making the car uncompetitive, and was replaced by the Holden Cruze. It briefly returned to the Australian market in 2012 as an Opel, but was discontinued after Opel withdrew from the country a year later. On May 1st 2014, Opel announced to export the Astra J GTC and Astra J OPC with Holden badges to Australia and New Zealand. The Astra is now built in Germany, the United Kingdom, Russia and Poland as well as being assembled from complete knock down (CKD) kits in other countries.
Astra G (1998–2004)
Edit
The Astra G was launched in Europe in 1998. It was available as a 3 and 5-door liftback, 4-door saloon, 5-door station wagon and two special versions from 2000: the Astra Coupé and the Astra Cabrio, both of them designed and built by Bertone. The Astra G saw the introduction of a natural gas-powered engine. Its chassis was tuned by Lotus and formed the base of a seven-seater compact MPV, the Opel Zafira. Approximately 90,000 coupes were produced, of which 7000 were cabriolets.
Ad blocker interference detected!
Wikia is a free-to-use site that makes money from advertising. We have a modified experience for viewers using ad blockers

Wikia is not accessible if you've made further modifications. Remove the custom ad blocker rule(s) and the page will load as expected.