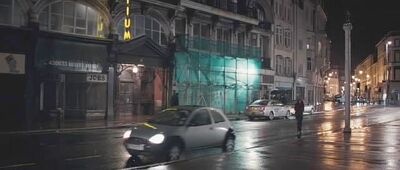 Ford Ka is a vehicle seen in Byzantium.
The Ford Ka is a city car manufactured by the Ford Motor Company from 1996 to present. It entered its second generation in 2008, and is produced by Fiat in Tychy, Poland. In both generations it has a three-door hatchback body style, with the first generation also having a three-door convertible version that was marketed as the StreetKa and a sportier version, known as the SportKa.
First generation (1996–2008)
Edit
The car was introduced on 11 September 1996 as a small and low-cost addition to the Ford range and is better known as the egg car. It was based on the Mark IV Ford Fiesta platform, but with a completely different exterior design. he design borrowed a lot from Ghia's "Saetta" show car, a roadster designed by Filippo Sapino. It is one of the very few concept vehicles ever to make it beyond the show circuit, albeit with some changes. In the event, only the front elevation remained largely unscathed on the production vehicle, The side and rear elevations were changed and a roof added, to minimise production costs. Plus the large, one piece, moulded bumpers and wheel arches made the vehicle more durable and easier to repair. The vehicle was manufactured on the existing Fiesta production line in Almussafes, Valencia, thus minimising new model investment costs for Ford. The Chief Program Engineer was Kevin O'Neill.
Ad blocker interference detected!
Wikia is a free-to-use site that makes money from advertising. We have a modified experience for viewers using ad blockers

Wikia is not accessible if you've made further modifications. Remove the custom ad blocker rule(s) and the page will load as expected.