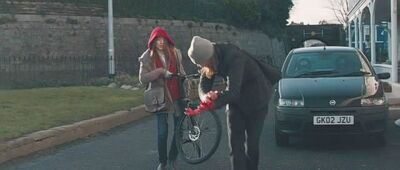 2000 Fiat Punto
is a vehicle seen in the
film
.
The Fiat Punto is a supermini car produced by the Italian manufacturer Fiat since 1993, spanning over three generations. The third generation of the car was marketed as the Grande Punto, between 2005 and 2009, and the Punto Evo, between 2009 and 2012, when the bare Punto name was re-introduced. As of February 2012, nearly 8.5 million units had been produced.
Second generation (1999–2010)
Edit
he second generation Punto, codenamed Project 188, was launched in September 1999 at the Frankfurt Motor Show. The styling was all-new while retaining the original Punto's distinctive shape and design, while the chassis and interior were completely overhauled. The new Punto also became the first Fiat in decades to carry the original round Fiat badge, to celebrate Fiat's centenary. At the launch event of the hatchback, the Fiat Wish concept car was also presented, which was hardtop convertible version of the Fiat Punto, very similar in styling with the Peugeot 206 CC. The model was conceived by Pininfarina to celebrate the centenary of Fiat.
Ad blocker interference detected!
Wikia is a free-to-use site that makes money from advertising. We have a modified experience for viewers using ad blockers

Wikia is not accessible if you've made further modifications. Remove the custom ad blocker rule(s) and the page will load as expected.