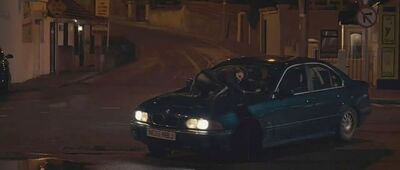 1996
BMW 5
is a vehicle seen in the
film
.
The BMW 5-Series is an executive/mid-size luxury car manufactured by German automaker BMW since 1972. The car, now in its sixth generation, is sold in sedan and touring body styles. It is BMW's second best-selling model after the 3-Series and in 2010 produced about 50% of the BMW's profits.
E39 (1995–2004)
Edit
The BMW E39 is the fourth-generation 5-Series, produced from 1995-2004. The design draws heavily from the E38 7 Series in body construction and electronic technology and the wheelbase grew by 68 millimetres (2.7 in) and overall length by 55 millimetres (2.2 in) over the E34.
Car and Drive often featured the E39 in its "10Best list". The E39 BMW 5-series was considered the benchmark of its class and Consumer Reports gave the 2001 530i its highest car rating ever.
The E39 M5 uses the S62 V8 engine.